Like to Bike? Important Foot Health Tips for Cyclists
As an avid cyclist and someone who is passionate about reducing the  foot pain of active British Columbians, I have a keen interest in Foot Health Tips for Cyclists.
British Cycling Offers their Foot Health Tips for Cyclists

Here is a great article by British Cycling.  In the article, the author explores important foot issues that pertain to cycling such as blisters and rubbing, hot-foot, the importance of cycling shoes and their proper fit, bike and cleat set-up, foot care and hygiene.
Furthermore, this article is recommended reading for all cyclists whether short distance commuters or long distance road racers. I hope it helps to keep your feet pain-free in the pedals. Happy riding! Read the article here.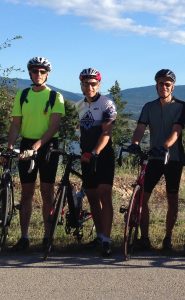 Published on:December 4, 2017
Posted in Uncategorized by Roy Mathews